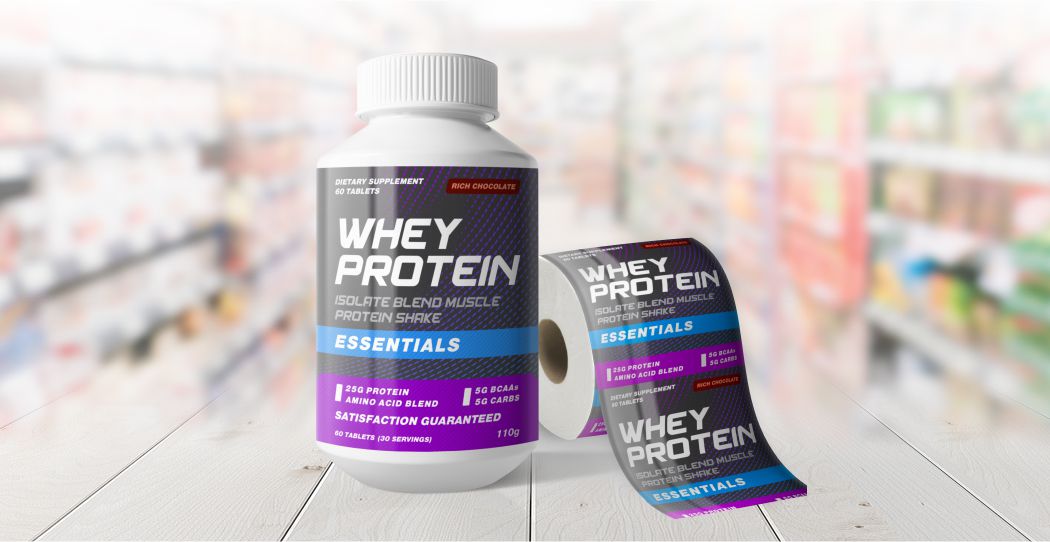 Everyone knows that labeling pharmaceuticals are pure science, but what about nutraceutical products? Every nutraceutical company aims to provide a product that's not only rich in nutrients but expertly crafted, medical-grade formulations designed to provide a specific benefit. It is for sure a mix of art and science to label nutraceuticals.
Just like in medicines, there are a host of regulatory criteria to be met in the case of nutraceutical packaging along with an added task of catching the customer's eye. Apart from fulfilling all the regulatory requirements and aesthetic enhancements of product packaging, the nutraceutical industry is also plagued with the problem of counterfeiting owing to technological advancements in the ease of printing production technologies and accompanied by a large number of crucial information leakage.
Since the product's nature is such, brand managers have to ensure that nutraceutical brands' packaging features should be able to bring out the academic and research efforts put into the making of each product. Perhaps there is no other type of product where authenticity is so crucial in building brand loyalty by giving the end customers the confidence to choose a brand's products without an iota of doubt.
Let's explore what are the common challenges faced by nutraceutical brand managers in connection to ideation, prototyping, and procurement of labels:
Over-Reliance on Digital Printing Services
The reasons for preference of digital printing over other printing technologies for nutraceuticals labels can be attributed to various reasons. It is a fact that digital printing offers just a handful of embellishment options, resulting in many Nutraceutical brands looking like clones of each other. But, with time the nutraceutical industry and allied fields have started to discover the advantages of a modern flexographic label supplier.
Nutraceutical Brands have relied on digital printing for too long to see its limitations and are now leveraging the far-reaching advantage of flexo printing labels to stand out from the crowd and differentiate themselves from each other in a unique way.
Difference between Whiteness of Labels and Jar Master Batch
A lot of Digital and Offset printers utilize full holographic and metalized materials for enhancements and embellishments, which requires a white to be printed to highlight other areas. This leads to one of the most visually jarring effects where white ink when printed over metalized materials starts looking grey and this mismatch of the white color of the label and jar leads to very poor visual branding and affects the brand perception. However, if a brand chooses flexo printing, the exact colors of the label, be it white or pastel shades can be matched to the container color.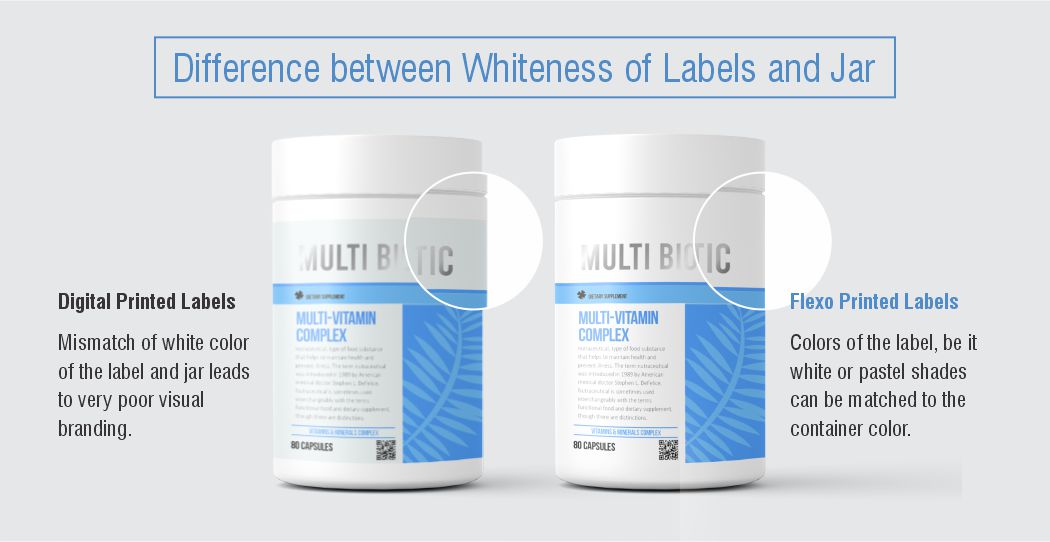 Lack of Awareness on Multiple Counterfeiting Techniques
As the saying goes, imitation is not the best form of respect, but a huge red flag for modern-day brand owners. Everyday brands are susceptible to the risks of being duplicated and sold off as cheaper knock-offs. However, these seemingly huge problems can be smartly tackled with modern digital and flexo printed solutions like color-changing inks, tactile finishes, dual-color foiling, and other printable security features that can make label imitation extremely difficult for anyone to replicate the brand's packaging and make counterfeit labels.
Similar Looking Product Packaging
The peculiar case of nutraceutical packaging looking like clones of each other have a root cause in the commonly used printing technologies. With limited and outdated options of metalized materials being used for embellishment, the packaging in dark colors with selective metalized areas to highlight which can't be differentiated from each other lacks usage of the new-age spectrum of aesthetic enhancement. These limitations of decorative options can be explored in detail with the flexo printed labels which offer an unlimited scope to decorate and embellish the labels in never seen before way.
Challenges in Adoption of Embellished Clear Labels
No matter what type of product you sell, transparent labels can add a whole new dimension to how you showcase the product. Showing consumers, you have nothing to hide while achieving a clean, modern look with your packaging can be a huge benefit to your brand. When people enjoy and trust your brand you will develop customer loyalty, which is a very important part of growth and sustainability.
But with the brand managers relying on printer's feedback regarding limited options for printing clear labels with multiple embellishments for short-run quantities, has resulted in a limited adoption of clear labels in the nutraceutical labels category. This is where bespoke printers like ourselves can help you to adopt and implement a successful clear label to enhance your brand.
Requirement of Long Length Labels
Nutraceuticals also require long-length labels like 600mm or plus to fulfill unique product packaging requirements. Sometimes these labels are very difficult to source and even if made available lack embellishments or are not being available in roll form. This problem is very well tackled by bespoke label printers who can help, a nutraceutical brand explores all the creative iterations of their packaging without any hindrance of the availability of larger dimensions.
Monarch Graphics: One-stop-shop for innovative Nutraceutical Labels and Packaging
The nutraceutical, supplement, and vitamin label experts at Monarch Graphics will work with you to design a label that communicates everything you need, from eye-catching branding to customer engagement after the sale. Whether you're a performance protein powder brand, or a homeopathic vitamin brand looking for a simple label, our team can customize a label to meet your budget and branding needs.
By providing the best-in-class printing services like Complex Embellishments, Intelligent QR codes, Scratch Codes, and anti-counterfeiting features, we help nutraceutical brands to gain customer trust, limit brand infringement, and secure the products at every stage of the supply chain.
Our Labelling solutions for the nutraceutical product can be customized to suit small batches and we also provide custom die sizes for labels of all big and small orders. Whether color matching, tamper-evident security, or budget is your primary concern, we will customize a printing solution to meet your needs. And with a variety of inks, varnishes, and finishes, you can choose to have a glossy, matte, or metallic label look. Get in touch with our team to seal your nutraceutical product with a promise of authenticity and better manage the supply chain.
Backed by the assurance of our ISO 9001 quality control certification, your label designs will be produced accurately and in compliance — every time.